We are fortunate to be alive at a time when technology is enabling some of humanity's wildest dreams. (Commercial space travel, anyone?) It's also inspiring to see the great innovative work being done by the best and brightest in the building industry. I recall in 2015 when the Edge Amsterdam was named the smartest building in the world. Since then, there have been many such designations and new certifications established to definitely measure such claims. There are so many types of intelligent buildings, whether they are historical retrofits, office towers, corporate campuses, universities, scalable portfolios or full districts and smart cities.
Building innovations that began as ways to become more sustainable and energy-efficient evolved to encompass multiple systems integration and predictive technologies. We then moved on to an explosion of market technologies like sensors with diverse uses, the IoT, edge devices, digital twins and augmented/virtual reality. In 2021, many innovators take the holistic view of user-centered design with an aim toward community-building. This is the umbrella under which digital transformation goals are planned. I find this incredibly encouraging from a human standpoint.
Fifth & Dinwiddie by Bridging the Gap Development: Pittsburgh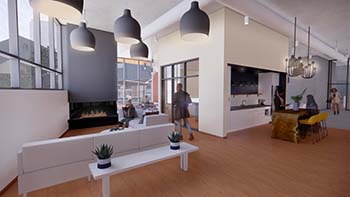 Located in Pittsburgh's EcoInnovation District, Fifth & Dinwiddie models a multipronged approach to sustainable design. A mixed-use, mixed-income development, the site will offer commercial office space, coworking space, housing units and retail space. Its Passive House design strategies will help reduce energy consumption by 70% compared to the regional average for its building type. The development will be net-zero ready but is striving for full net-zero energy with the inclusion of rooftop solar arrays.
Beyond Passive House certification, the project will prioritize occupant health, tracked through Fitwel and RESET Air Certification. RESET will ensure indoor air quality with real time monitoring based on the first-ever RESET Air multi-family typology. Fifth & Dinwiddie will also be the first integrated digital twin of this type that combines simulated data and trended data to enable advanced data analytics. The project teams were aligned from the start on the data-centric model.
The design includes a converged OT network for all technology associated with this multi-tenant office and multi-family construction project, with an open data lake resulting in single-pane-of-glass for all time-series operational data. Believing that aspirational design is not enough, Bridging the Gap and their teams planned for "straight out of the gate" effectiveness and measurable performance. An on-site clean energy jobs program keeps the community focused on training, education and improvement.
Slated for completion in summer 2023, BTG is breaking through the inertia of the status quo to drive deep innovation. This is the future of sustainable construction, where developers balance first-costs with aggressive building performance goals and long-term operating costs to achieve attainable, sustainable, tech-enabled housing.